Amenities
Outside Table & Chairs
Courtyard
Flat screen TV
Full kitchen equipment
Washing machine
First-aid kit
Air-conditioning
Heating
Fine cotton satin linen
Quality bed mattress and pillows
Soft towels
Hair dryer
Welcoming gift which includes Raki
Baby Cot
Zeus House offer an authentic experience with traditional Cretan elements.
The visitor here can live like a local, the decoration of the home create a unique experience that every visitor of Crete needs to live to understand the culture and the spirit of the locals.
The house located in a little, quite village called Agii Deka, 20 minutes from the southern beaches of the bay of Messara and 40 km from Heraklion city.
Entering the property we see a courtyard with lemon, bergamot and mulberries trees.
Traditional House built with stone traditional style and modern amenities.Good energy and calmness of the place, offer an excellent opportunity for relaxation.
Agii Deka is located at the 44th km of the national road Heraklion – Agia Galini.
The village is built in a picturesque location, at an altitude of 170 meters, with wonderful views, east of the olive grove of ancient Gortyna, on the north side of the plain of Messara, on the ruins of the southeastern departments of ancient Gortyna and its necropolises.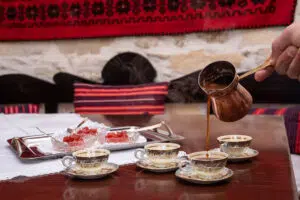 At a distance of 10 minutes , you can have fun in a multi-space. Easyliving, provided for you free entrance to the premises.
Registration Number: 00001017230
Are you an owner? Contact us today for your property management.
 house