Amenities
Outside Dining Table
BBQ
Courtdrooyard
Balcony Table & Chairs
Garden Table &Chairs
Flat screen TV
Full kitchen equipment
Heating
First-aid kit
Fine cotton satin linen
Soft towels
Quality bed mattress and pillows
Baby cot
Welcoming gift which includes Raki
Relax in a traditional house located in the heart of Archanes, one of the most beautiful villages of Europe, just 15 minutes drive away from the Minoan palace of Knossos.
Traditional house located at the center of a traditional village.
Entering the traditional house we see a courtyard with lemon trees, orange trees, a few vines and flowers.
There is parking space for your car also in the courtyard. There is also a dining area with benches, if you wish to  enjoy your lunch outside.
You can take a walk in the paved narrow lanes with the restored neoclassical buildings, discover the traditional cafes and taverns, meters away from the house and taste the famous local wines.
A prehistoric cemetery, which had been used for more than 1,000 years, was discovered at the northwest of Archanes, on Fourni hill.
Also, within a close distance from Archanes, in Vathypetro you can visit the oldest winery in the world.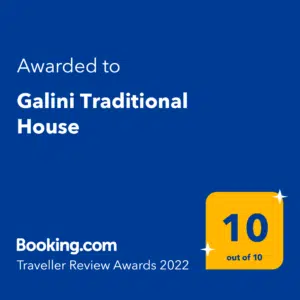 Registration Number:00001377717
Are you an owner? Contact us today for your property management.
traditional House